How to Clean Vinyl Floors on a Regular Basis?
Cleaning vinyl flooring is essential since floors can be a source of worry and concern, but it doesn't need to be.

There are several cleaning and maintenance techniques that will keep your vinyl floors sharp and crystal-clear at all times. Let's first talk about how you can clean vinyl floors daily.

Regular cleaning doesn't mean you have to use a cleaning solution and mop the floor daily. It's as simple as picking up a broom for quick sweeping and removing the hair, dust, and fine dust particles. In addition to this, try to wipe the floor with a damp mop or a soft cloth mixed with a floor cleaner once or twice a week.

With just these two cleaning tips, your floor will be free from dirt and shine brightly at all times. Here are the tools you can use for daily cleaning:

Brooms
A broom is a quick sweeping option to remove the visible dirt from the floor.

Dust Mops
These are excellent choices to remove fine particles.

Vacuums
They are perfectly safe and efficient. Make sure to remove carpet attachments such as the power head.


---
How to Deep Clean Vinyl Floors?
Deep cleaning is easy and essential to clear all the hidden grease and fine dirt particles you don't remove with regular cleaning. It's recommended to deep clean at least once a week. Here are the suitable tools which can aid you with deep cleaning:­

Spin mops
The wet spin mop is easy to use and efficient.

Spray mops
Spray mops allow you to spray first and then sweep the floor.

Floor cleaners
Proper vinyl floor cleaners extend the life of your floor and are readily available from your flooring dealer, grocery, or hardware store. Alternately you may create a DIY cleaner using mild dish soap and water (just a few drops of soap are needed per bucket of warm water).

Let's now move on to the step-wise guide of deep cleaning the vinyl floors.
­
­Step 1: Remove Dust
Start by detecting the fine particles and tiny rocks which can easily scratch the floor. Use a broom, vacuum, or dust mop to remove the dust and dirt from the floor.

Step 2: Prepare the Cleaner solution
If your cleaner is a concentrate or requires preparation, mix it in a bucket as per the manufactures directions. Alternatively, you can make your own cleaner by simply adding a few drops of mild dish soap to a bucket of warm water.

Step 3: Mop
Start from the farthest part and mop and wring simultaneously as you progress towards the entrance/exit of the room. If the cleaning solution appears dirty, dump it and make a new solution.

Step 4: Rinse
Once done, fill a bucket with clean water and rinse the floor using a separate cloth. Don't overlook this step because a soapy residue will always appear on the newly washed surface.

For a perfect finish, use a towel or microfiber cloth to dry the floor.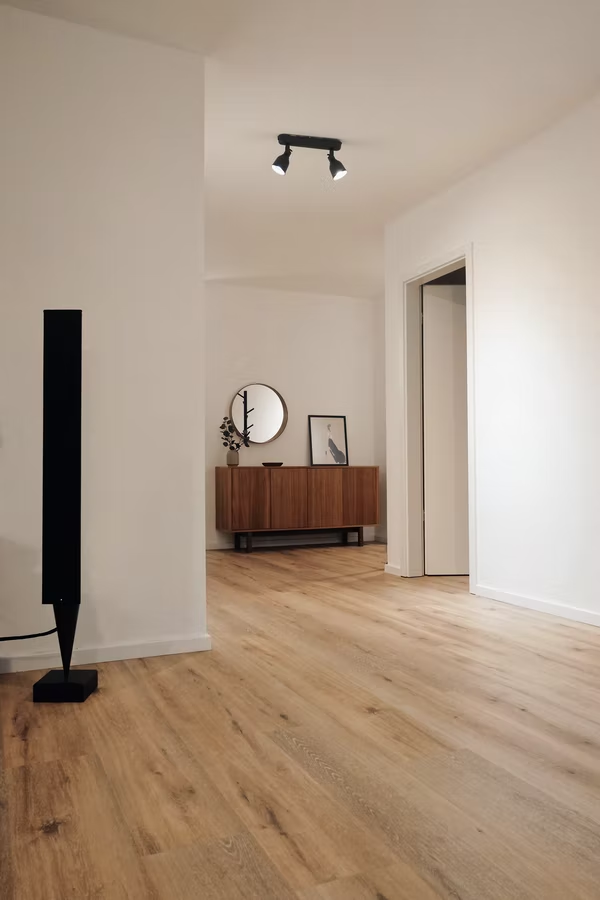 ­
---
What About Cleaning Paint Stains from Vinyl Flooring?

Paint stains on vinyl floors destroy the look. Plus, there are three different paint stains, each with a slightly different remedial process. We'll touch on cleaning each type briefly.
­
Water-based Paints
Here's the step-wise guide you need to follow:


Clean Excess Paint
Start with a soft cloth and clean up the excess spilled paint.
Wipe the Rest with a Wet Towel
Use a clean wet towel to remove the leftover spilled paint.
Use a Solution of Water and Detergent
Mix a few drops of detergent in a bucket of clean water. Soak a towel and rub it over the spoiled spot.
Rub Alcohol
If the paint is still there, pour alcohol on a clean cloth and rub it gently on the stain. Alternatively, place the cloth for 5-10 minutes on the spoiled spot and rinse it off with clean water.
---
Oil-Based Paints
The first step to cleaning oil-based paint stains is the same as cleaning water-based paints. The further steps include:


Clean Excess Paint
Once you take care of spilled paint, pour rubbing alcohol on a clean cloth and place it on a stained area. Keep it set for about ten minutes, and then wipe it off with a wet towel.
Use a clean cloth and Liquid Wax
If the stain is still there, scrub it gently with a clean dipped in liquid wax, repeat as necessary until the stain is removed. Avoid high abrasive materials such as steel wool, as they will scratch the surface of your floor.
Finish with Mild Soap
Once you have removed the paint, prepare a solution of water and mild soap and apply it to the pre-stained area. Dry it off using a mop or a clean cloth.
---
Dried Paint
Dried paint undeniably gives a hard time. So, here's what you need to do:


Scrap
Begin by using a plastic scraper, razor, or spatula to remove the paint shreds. Be careful to avoid scratching or gouging your floor.
Apply Paint Remover
Pour drops of paint remover on a clean cloth and rub it over the stain until the paint loosen up.
Clean the area
Create a solution of detergent and water to get rid of residue chemicals.
---
Things to Keep in Mind When Cleaning Vinyl Flooring
Now, you have a clear-cut idea of how to clean vinyl flooring. However, there are some things you should keep in mind. Some of them are as follows:


You should avoid using excessive water. Vinyl is extremely water-resistant, but it's possible for water to seep through the plank joints and ruin the subfloor or introduce moisture that may cause mold.
If you want to increase the shine of your floors, don't use mop and shine products. Add a few drops of baby oil to your cleaning solution.
Avoid using ammonia-based cleaners since they can cause cracks in the flooring.
Never use a power head vacuum attachment since it can cause scratches on the floor.
Use plywood or sheet to prevent scuff marks when moving heavy furniture across the floor.
Make sure to periodically deep clean vinyl flooring in high-traffic areas of your home.



---