SmartCushion™
CARPET CUSHION

SUPPORTING SUSAN G. KOMEN FOR THE CURE®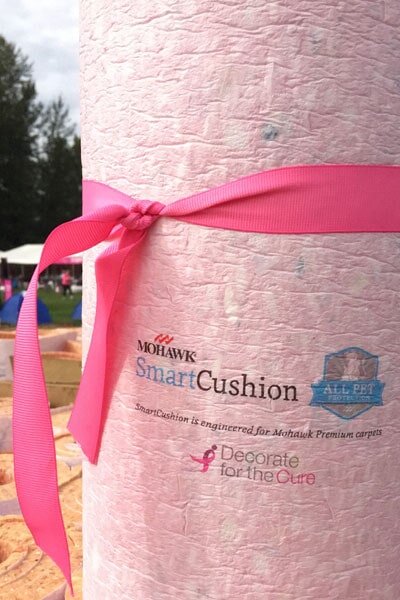 Get the softest step possible by adding SmartCushion™ to your carpet purchase. Our exclusively engineered carpet cushion enhances the feel and performance of your Mohawk carpet, and adds 20 years to your warranty.

SmartCushion's visco-elastic memory foam construction softens every step you take and improves insulation for a quieter, more energy-efficient room. By absorbing and deflecting foot traffic, SmartCushion prolongs the life of your carpet by defending it from abrasive wear. And when it comes to spills, the Spillsafe Moisture Guard stops them in their tracks—preventing moisture from soaking into your cushion and subfloor so you can clean up in a jiffy.

Mohawk manufactures both carpet and cushion, so you can be sure you'll get a perfect match for your new Mohawk carpet. We also donate a portion of every SmartCushion to SUSAN G. KOMEN® for ongoing breast cancer research. Komen is the world's largest breast cancer organization and a critical player in the fight against breast cancer. Mohawk is honored to be a part of this important movement.

See how SmartCushion™ upgrades your warranty
A Smart Choice for the Cure
At Mohawk, we're proud to support Susan G. Komen® with proceeds from our high-performance, eco-friendly SmartCushion. Here's why we work to cushion the fight for these inspiring breast cancer survivors.
­